The Orkney Science Festival, 2001
In early September Robert sailed to Stromness on his way to give two talks at the Eleventh Orkney Science Festival.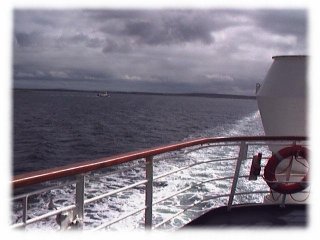 He arrived in good time to attend the lectures on the physics and chemistry of Distilling on Tuesday evening.
On Wednesday morning Robert shared a lecture session with Merryn Dinely, an archeologist from Manchester University. The lectures were sponsored by the Clydesdale Bank and Orcades Viking Ltd.
Merryn spoke first about how the inhabitants of Skara Brae had produced beer. In her talk, entitled 'The First Orkney Brewery', she described the process of brewing and showed the evidence for the practice of brewing over 5,000 years ago on Orkney. Her samples of Neolithic Meadowsweet flavoured brew were extremely palatable!
Robert spoke next about the detailed technology of the Grooved Ware People and used a technique he described as 'Forensic Economics' to deduce the extent of trade and the effect of their methods of production on their standard of living and way of life. [This talk is reproduced in the Orkney Science Festival Archive.] The session. held in Pickaquoy Cinema, Kirkwall ended with Robert and Merryn giving a practical demonstration of how the Grooved Ware People used astronomical observations to produce standard measures of length, volume and weight.
On Wednesday evening Robert was spotted at the Energy Ceilidh, held at the Albert Hotel, performing the 'Dashing White Sargeant'. He was partnered by two charming ladies, Merryn Dinely and architect Lita Khazaha-Simpson and accompanied on the tin whistle by festival director Howie Firth. Fortunately no photographs exist of this artistic tour de force.
On Thursday afternoon Robert shared a session with philosopher Melanie Pucell of the Univeristy of Newcastle, Australia. Held in the Pickquoy Cinema, Kirkwall the afternoon, and sponsored by The Institute of Physics, the session looked at the period when Alchemy mutated into Physics.
Melanie spoke first discussing 'Hermetic Thought, The Klein Bottle and the Structure of the Universe'. She examined the work of early alchemists, such a John Dee, looked at the symbolism they used and explored how their view of the Universe lead them away from religious dogma and towards an experimental view of how the world worked.
Robert spoke next and carried on the story describing how the Royal Society came to be formed in the aftermath of the English Civil War and described the role of Sir Robert Moray in winning the Society the freedom a Royal Charter from Charles II. [This talk is also reproduced in the Orkney Science Festival Archive.]
Robert also managed to fit in a visit to the Ring of Brodgar to enjoy watching the sun set over Loch Harray before dashing back to Kirkwall for the Solar System Dance.